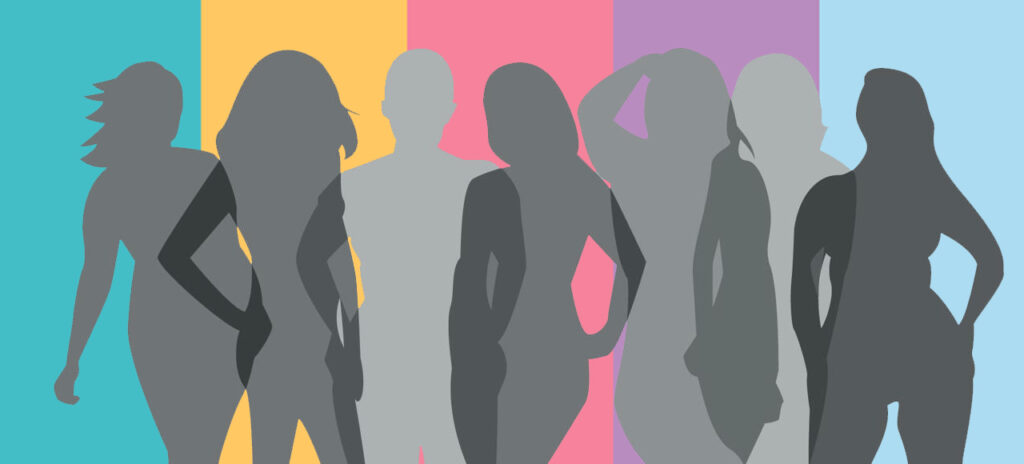 **By Isabel Mathew**
For as long as I could remember, the models I had seen on TV and in magazines were slender, mostly white, and tall. I didn't see my ethnicity, as a person of Indian origins, or even the body types of most of the people I know represented much on the colorful spreads of Vogue, Elle, or Cosmopolitan. Though I was faintly aware that this wasn't healthy or fair, I clued in on its immense impact when I learned about Ashley Graham as a sophomore through social media. She began modeling in the plus-sized category in middle school when she wore size 8 bottoms. Many of her peers knew her as the "plus-sized" model which made her very insecure throughout her younger years. This stood out to me as I wear similar-sized bottoms as her but have never been considered "plus-size" by my friends or family. It put into perspective how skewed the fashion industry is as they were making women 3 to 4 sizes below the "plus-size" represent the community.
For years, the fashion industry has been more about upholding a superficial image and less about representation or inclusivity. The promotion of unrealistic beauty standards through the models chosen, marketing strategies employed, and advertising campaigns released have had a detrimental effect on the self-esteem of the female population right from the tender age of six. According to research done by Heather R. Gallivan of the Park Nicollet Melrose Center, around 80% of US women don't like how they look and 34% of men are dissatisfied with their bodies.
Based on the fashion industry's resistance to cater to the needs of the petite and plus-sized, you would think that they were an insignificant minority. However, Mallory Schlossberg of Business Insider busted that myth with her report that over 70 million women fall in the special-size category. With over 10 million #BodyPositive posts on Instagram and numerous celebrities endorsing the idea, the real question is why the fashion industry is making token gestures rather than embracing a customer segment that could help them rake in significant profits?
WHAT IS BODY POSITIVITY?
Body positivity is a worldwide movement for acceptance and inclusion—a decisive move against the overwhelming expectation for cookie-cutter conformity and a firm stand against the rejection of outliers. It is the idea that all human beings are created beautiful and therefore should have a positive body image. While it rejects society's unrealistic beauty standards, it speaks for the inclusion and representation of all races, cultures, genders, physical abilities, body types, and sizes. In short, it is a lesson on self-love and universal acceptance.
THE PROBLEM WITH THE FASHION INDUSTRY
Traditionally, the fashion industry has mostly used skinny, white, young models for advertising and marketing fashion collections. The sample garments used have typically fallen between the US sizes 0 to 4 despite the average body size of women in the US being between sizes 16 to 18. This has created a sense of elitism and unattainability, excluding a significant portion of the population. Even when brands have conceded and used plus-size models, the models employed have conveniently held the 'fat' in favorable places like their thighs, breasts, and buttocks. Most have been airbrushed to have unrealistically slim stomachs, stretch-mark-free arms, and blemish-free faces. This skewed representation not only inflicts further damage to individuals with low self-esteem but also does nothing to improve the representation of all body types in society.
Adding to the problem is the absence of standard sizes across brands. Manufacturers get to decide what scale to use depending on the demographic they are targeting. Since Old Navy targets a wider population of different body types and lifestyles, their models are often the family next door type. On the other hand, Zara caters to a different demographic and uses high-end models. The inconsistency in clothing sizes across brands makes shopping a tedious and frustrating experience, often unintentionally damaging self-worth.
THE IMPACT OF FASHION ON BODY POSITIVITY
The impact of the fashion industry and media representations are quite alarming. Research shows that 80% of women in the US don't like the way they look with 70% desiring to be thinner (Park Nicollet Melrose Center). Around 15% of male children/ adolescents in the US are concerned about their masculinity and leanness. In the UK, 1 in 5 adults has felt shame over their body image in the last year.
Body image, which is the way a person thinks and feels about their body, is a significant problem. People who think negatively about their bodies are more prone to depression and suicidal thoughts. Repeated messaging from fashion brands and the media that tote a certain stereotype as normal has caused people to blame themselves for having bodies that don't meet those stringent standards. In fact, using as little as 30 minutes of social media has been known to negatively impact how people view their bodies.
Evolutionarily, men preferred partners on the plumper side as it signified the availability of sufficient food. In research done by Viren Swami and Martin Tovee, men denied one meal found full-figured women more attractive than slim ones. What then is causing people to favor lean women? To find out, Lynda Boothroyd and her team quizzed 151 men and women from three places in Nicaragua on the body sizes they found attractive. The places were selected on the basis of their varying degrees of exposure to western media: two were remote Nicaraguan villages and the third was the capital, Managua. People in Managua regularly watched soaps, US films, and music videos. One of the villages had access to electricity and TV, the third place did not have access to any visual media. The study concluded that the more people had access to western media, the more they clamored after slim figures and attempted to lose weight. People in Managua showed the highest levels of body dissatisfaction.
The type and size of the human body are 40-70% dictated by gene expression. Other factors such as hormonal imbalances, mental health issues like depression, metabolic syndromes like diabetes, and even terminal illnesses like cancer also have an impact on body size and health. However, the unrealistic standards set by the beauty and fashion industry have made people not only question their own worth but also judge others who don't conform to the 'norm'.
Obsession about reaching a weight-goal in time for summer or special occasions leads to restricted eating and dieting which when left uncontrolled, can develop into a clinical eating disorder that may cause severe harm, and in extreme cases, even death.
WHY DOES THE FASHION INDUSTRY RESIST ALL-SIZE INCLUSION?
Fashion is the business of production and consumption of personal expression in the form of clothing. Profits are maximized by the use of predictable standard sizes in manufacturing. The reason why the industry has resisted inclusive designs for this long is that creating clothes for slim people is easier and requires less fabric than for the more curvy types.
According to Registered Dietitian Christy Harrison, the problem of comparison of bodies surfaced as a mass phenomenon only after the industrialization of the textile industry. By reducing the variety of sizes produced, brands streamlined production and increased profitability at the expense of the mental health of people across the globe.
THE HISTORY OF FEMINISM, FASHION, AND BODY POSITIVITY
In the 1850s, a wave of feminism emerged. The proponents, Lucretia Mott and Elizabeth Cady Stanton, spoke up against the restricting silhouettes of Victorian fashion (corsages, tight-lace, hooped skirts) that prevented women from physically exerting themselves and kept them dependent on men to provide for them. They introduced modest, functional clothing for women such as bloomers (Turkish pants) that could be used under calf-length dresses. However, the movement did not gain much popularity as many felt that the women's suffrage movement took precedence over fashion.
Later, in the 1920s, women in America got the right to vote for the first time, setting the ball rolling for a fashion revolution. Soon enough, as the movement gained momentum, trousers were introduced and hemlines grew smaller and smaller.
About 100 years after the first wave of feminism, another wave crested bearing the agenda for women's liberation in politics, family, work, and sexuality. Later, in 1969, a New York engineer, Bill Fabrey decided to act on his anger towards the way his 'fat' wife was being treated. Printing out copies of an article written by Lew Louderbach, the butt of many fat jokes, Bill distributed it to everyone he knew. He then created the National Association to Aid Fat Americans (now known as NAAFA—National Association to Advance Fat Acceptance).
In the early 2000s, activism on AOL and NAAFAs online forums transitioned to Instagram, Tumblr, and Facebook, underscored by the hashtag culture. This formed the beginnings of the Body Positivity movement as we know it today. There are now several videos on YouTube on Normalizing Body Insecurities consisting of real unedited images of women with scars, stretch marks, cellulite, body hair, and 'unconventional' body types not usually represented in the fashion industry.
Sonya Renee Taylor's The Body Is Not an Apology video is among some of the most influential pieces of body positivity digital activism. With streams of people adopting this movement and confidently posting about their 'imperfections' on social media, they have become an inspiration for those who are insecure and yet to accept their bodies or adopt self-love. But how has this impacted the fashion industry?
WHAT HAS CHANGED IN THE FASHION INDUSTRY?
Torrid was the first brand to have a plus-size Summer/Spring collection at the 2018 New York Fashion Week. The sizes displayed ranged from size 0 to 30 and showed that brands were finally starting to listen to the needs of the customer. In the wake of raised voices advocating for body positivity, fashion evolved from being an aesthetic to a form of expression and activism that paved the way for social and political change.
Today, fashion is being used as an instrument to carry the message of equal representation and size-inclusivity. This positive change has led to many women accepting their curves or lack thereof. With several other brands exploring this newfound self-love frontier, shopping has transformed into a therapeutic experience, healing and building self-image and confidence across women of all sizes and ages.
Some of the brands that have embraced the shifting culture of self-acceptance are:
Nike
The body positivity movement forced brands to rethink their strategy and products. Several major brands listened to their customers' needs and altered their product line. Nike's 2017 marketing campaign was one such change that focused on women empowerment and female inclusivity in sports. Their marketing materials showcased people from different backgrounds, genders, and skin colors. For women who are "stronger, bolder, and more outspoken than ever", they introduced a new range of plus-size products coupled with plus-size mannequins to represent diversity in their stores.
GymShark
On September 7, 2020, athleisure brand GymShark shared a post by body positivity influencer Nelly London onto their Instagram page. Until then, the brand had heavily concentrated on ripped muscles, toned bodies, and fitness-inspired looks for their social media following. However, that one share produced an avalanche of responses that were far from positive, throwing up pertinent questions—what does fitness look like, and how should it be defined going forward? Throughout the backlash, the brand supported Nelly London, boldly stating that they would continue to post similar pictures that celebrated people wherever they were on their fitness journey. Gymshark's response emphasizes the power that a brand holds to question and change the narrative around body types and lifestyle choices.
ASOS
The brand ASOS took size inclusion to another level when they enlisted plus-size men to model their collection. They also collaborated with GLAAD (an organization that champions cultural change and LGBTQ acceptance) to release a collection of gender-neutral fashion. With ASOS, body positivity and size inclusion have now extended to male, female, and gender-neutral individuals.
Knix
Knix, a Canada-based underwear brand placed women's confidence at the forefront of their campaign. Not only did their promotional photos embrace diversity through their models, but they also refrained from editing the photographs. Each picture used was a 100% real representation of the models—skin blemishes, scars, stretch marks, all intact.
Knix successfully embraced the body positivity movement giving its customers the confidence and comfort that the product would change to accommodate their comfort rather than them changing to conform to the product.
Aerie
In January 2014, Aerie released a campaign #AerieReal that celebrated diversity through models of varying ages, abilities, races, and sizes. All the images generated were not touched-up by photo-editing software. They openly embraced women just as they are with visible cellulite and stretch marks. Such a change not only saved the brand the added expense of creating heavily edited images to market their products but also made its target customer view their own bodies with acceptance and love.
Apart from these, other brands such as the activewear brand Girlfriend Collective, Mara Hoffman, and Eileen Fisher have also started offering plus-size clothing.
AMBASSADORS OF BODY POSITIVITY
Ashley Graham
Since 2010 Ashley Graham has been the face of a major plus-size clothing retailer, Lane Bryant. While working with Revlon's Live Boldly collective, she said that she hoped in 10 years, beauty-beyond-size would be the norm, not requiring any further campaigning or discussion about it.
Iska Lawrence
An English model working with Aerie, American Eagle's lingerie and swimwear products, Lawrence insists on not having any of her pictures retouched before being used in promotional material. Her ability to voice her preferences is a testament to the growing power and popularity of the body positivity movement.
Serena Williams & Ronda Rousey
Since the 1970's it has not been uncommon for female athletes to be roped in for brand endorsements. Until recently, athletes like Anna Kournikova, with lean body types, were chosen for their looks rather than their athletic prowess. However, with the body positivity movement taking center stage, athletes like Serena Williams and Ronda Rousey have transitioned from being athletic models to mainstream models, their 'unconventional' body types now embraced as beautiful.
In 2016, Serena Williams was featured in all her muscular glory in the Pirelli Calendar, formerly known for its traditional nude pictures. Pirelli's decision to break from stereotypes in the wake of the body positivity movement comes as a shrewd move.
With more and more mainstream faces backing the body positivity movement and the public releasing posts that normalize body differences and self-acceptance, the fashion industry is riding a new wave of self-love. Brands that do not change in pace with the changing times risk the possibility of becoming obsolete, their names fading away into a phase in fashion that will forever be known for its distorted values and unhealthy portrayal of the human body.
BODY POSITIVITY FOR MEN?
The current conversation about body positivity is mostly limited to women, but not so much about men. Women have been very vocal about the issue, openly discussing its impact on their lives, and have therefore been successful in making inroads into addressing this massive issue. However, men have been less comfortable expressing their thoughts openly and are yet to rally up a similar fight against stereotypes. As a result, diversity in male representation in media and fashion is limited, especially concerning plus-size models.
BODY POSITIVITY STEPS FOR BRANDS
The fashion industry has always supported creativity—one of the reasons behind its longevity and continued presence as a major influence in daily life. However, if the industry is to continue to thrive, a culture of authenticity needs to prevail within each organization. For an industry that has for long survived on exclusivity, it needs to open its arms to embrace people of every kind.
Now that the body positivity threshold has been crossed, brands can either embrace the change or risk going extinct. Some key changes that are required in every organization that wants to keep up with the times are:
Diversity
Diversity should not just exist in the collections released, it should exist within the organization. It should figure early in the design process rather than being added as an afterthought. Unless the organization houses diversity within its employees and leaders, no matter how well-meaning they are, their campaigns and efforts will most likely end up being superficial.
Transparency & Accountability
While most brands have taken to social media to connect with their customers, listen to their desire for change, and adapt their product lines accordingly, many are yet to openly extend that digital connection to tangible forms of accountability where every aspect of the way they do business is transparent to their consumers, stakeholders, and the public. From body positivity to sustainability, the onus of change and accountability lies on businesses.
Interaction
Currently, companies have many digital channels to connect with their audiences such as social media, vlogs, and blogs. While there is an increasing number of body-positivity influencers and ambassadors who campaign for the inclusion of models with vitiligo, different abilities, and diverse gender identifications, brands need to develop a commitment to connecting directly with their consumers. This could be by creating campaigns that invite public participation, or by sharing genuine body-positivity content created by members of the community. Not only does this open the channels of communication between brand and consumer, but it also builds trust.
Undoubtedly, the body positivity movement has shaken the fashion industry, voicing its needs loudly and claiming that #strongisbeautiful and #strongissexy via social media. With millions of posts around body positivity on the web, the movement has become a self-fulfilling prophecy of sorts, forever altering public perception of beauty and rewriting beauty standards.
The time when fashion changes for the people rather than people changing for fashion is imminent. If the contributions of media and fashion had such a powerful and negative effect on body image, self-acceptance, and self-esteem, imagine what the world would be like when children of the next generations see people similar to them being represented and appreciated on mainstream media.
The movement of mass change in beauty perception has just begun. Its true impact may be more magnificent and powerful than any of us could ever foresee.